While the world's average life expectancy is 71 years, Japan stands out with an average life expectancy of 84.
Japan is also known as the 'Land of Immortals' because of its healthy food practices. Let's explore what is so special about Japanese food.
Japan traditionally has a very healthy perspective towards food. They believe that you should eat until you are 80% full.
Food presentation makes a lot of difference, and this has been proved by Japanese food. At Shiki Sushi, we make sure that you will get the magic of Japan-style plating with a small portion and a pop of colours that will stimulate hunger and the taste satisfies all your senses. This art of plating persuades you to eat with your eyes by enjoying the beauty of food.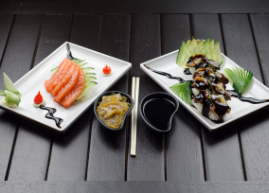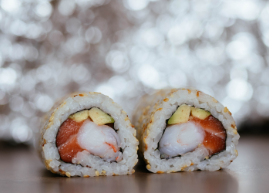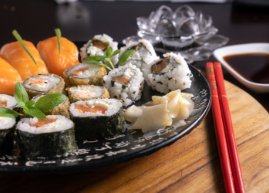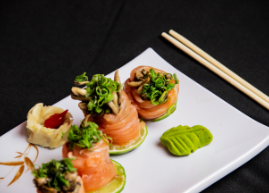 Why should you eat Japanese food?
If you think that you can't stop taking more calories in your daily food, then start eating Japanese food, and your life will change. According to a study conducted by the University Of Florida, College Of Medicine, an average Japanese person eats about 25% fewer calories per day compared to people across the world.
The traditional Japanese diet is a whole-food-based diet rich in fish, seafood, and plant-based foods with minimal animal protein, added sugars, and fat.
It's based on traditional Japanese cuisine, also known as "washoku," which consists of small dishes of simple, fresh, and seasonal ingredients.
This eating pattern is rich in nutrients and may provide numerous health benefits, including improved weight loss, digestion, longevity, and overall health.
Secret of Japanese cuisines-
Unlike other cuisines, Japanese food is served on small plates and bowls. According to health experts, the idea of smaller portions is the best secret for their healthy eating that also helps in losing weight. Research shows that when served more, people tend to eat more, whether they are hungry or not.
We know your love for the rice :
Japanese cuisine is incomplete without rice. If we go by reports, they eat six times more rice as compared to others. Rice as a low-fat food helps fill you up with fewer calories. So how can we forget about tasty rice? We serve the best, most delicious, and healthiest rice on our menu at Shiki Sushi.
Shiki sushi is thinking about your health with the best taste :
We cook food with minimum oil and use mediums like slow-cooking, broiling, steaming, stewing, fermenting and stir-frying. The reason for choosing such methods is to retain the nutritional value of the ingredients.
Whether food or life, a positive attitude can bring good health and prosperity. And Japanese food and lifestyle is a live instance of the same. So, are you ready to bring in the change and come to Shiki Sushi for lunch and dinner?
---